Andre Dirrell
"The Matrix"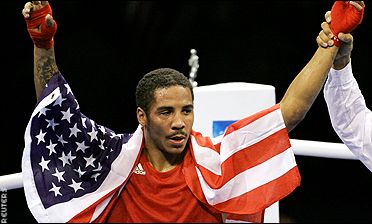 CLICK HERE Andre Dirrell's complete record from boxrec.com
From Wikipedia, the free encyclopedia
Andre Dirrell (born September 7, 1982 in Flint, Michigan) is an American boxer, who won the middleweight bronze medal at the 2004 Summer Olympics.
Amateur career
Southpaw Dirrell was a standout as an amateur and won the National Amateur Championship at Middleweight (165 lb.) in 2003. (Brother Anthony Dirrell won it in 2004 and 2005.)
He also competed at the Panamerican Games 2003 in Santo Domingo. His results were:
He avenged the Despaigne loss 41-28 in their second bout later and world champ Gennady Golovkin 15-14 at the 2003 USA vs. Kazakhstan Dual.[1]
He won the Middleweight Bronze medal for the United States at the 2004 Olympics in Athens, Greece. His results were:
Professional career
Dirrell began his professional career in 2005 and is currently undefeated based on fights against limited competitors. He, and his brother Anthony Dirrell, are featured regularly on ESPN fight cards.