Chris Arreola
"The Nightmare"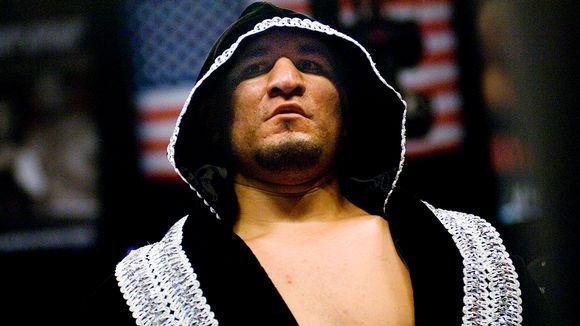 CLICK HERE Chris Arreola's complete record from boxrec.com
From Wikipedia, the free encyclopedia
Statistics
Real name

Chris Arreola

Nickname(s)

"The Nightmare"

Rated at

Heavyweight

Nationality
Birth date

March 5, 1981 (1981-03-05) (age 27)

Birth place
Stance
Boxing record
Total fights

25

Wins

25

Wins by KO

22

Losses

0

Draws

0

No contests

0
CChris Arreola (b. March 5, 1981 in Los Angeles as Cristobal Arreola) is a US Mexican-American heavyweight boxer widely regarded as one of the best American prospects in the division.
Amateur career
Arreola grew up in East LA, his father was a boxer and he started boxing at the age of 8 and at 16 had "about 200 amateur bouts"(Max boxing) before losing interest and quitting. At 20 he got back into boxing and after only three months of training managed to win the National Golden Gloves in 2001 as a light-heavyweight against Dallas Vargas who had about 300 amateur fights at that time.
After another hiatus from boxing, this time for two years, he tried to come back for the 2003 Golden Gloves but arrived shortly after the check-in deadline prompting him to turn pro.
Pro
In 2003 the Goossen Tutor promoted tatooed 6-foot-4 fighter turned pro at heavyweight with little fanfare. His nickname is "Nightmare". Despite his amateur success Arreola carried a lackadaisical attitude into the pro ranks. Looking back he says: "I really didn't know if boxing was going to be my career. I wasn't sure about turning pro and once I did, I just took it one fight at a time. But then I starting knocking guys out and I gradually started thinking, 'Hey, maybe I can make some money doing this'."
At first the offensive-minded Arreola only beat weak opposition but got good sparring in California against Wladimir Klitschko, Hasim Rahman and James Toney. He now resides in Riverside CA.
In 2005 he stepped it up against Domonic Jenkins who despite his record of only 6-3 held a win over Malcolm Tann (and later KOd amateur stars Victor Bisbal and Carlos Barnett). After trailing for six rounds he turned the fight around and won by KO.
Since then he got his weight under better control, he dropped from a whopping 255 lbs gradually down to 230 lbs.
In 2006 he stopped durable clubfighter Sedreck Fields, Cuban southpaw Damian Norris (who later defeated the unbeaten Roderick Willis) and in a match of unbeaten Californian prospects Damian Wills (coming in at 21-0-1).
In 2007 he KOd former amateur star Zakeem Graham (10-1, only loss was to Ruslan Chagaev). He was scheduled to fight undefeated Olympian Devin Vargas , brother of his amateur foe Dallas Vargas, but knocked out late sub Malcolm Tann when Vargas got injured in training, in May 2007 on ShoBox. He KOd Thomas Hayes (record 26-1) in September 2007.
On June 21, 2008, Arreola faced fellow undefeated prospect Chazz Witherspoon (23-0) and defeated him via disqualification. In the third round, Arreola landed a barrage of punches that was capped off by a chopping right that sent Witherspoon to the canvas. Witherspoon stumbled to his feet as the bell rang, but a member of Witherspoon's corner entered the ring before the end of the mandatory eight-count, causing the disqualification.[1]
Arreola is currently ranked in the top 10 by three of the four major governing bodies.[2]
His coach Henry Ramirez is only 31 years old. "I had other trainers but they didn't fit my style. I'm a banger," said Arreola remembering that day. "Henry was always giving guys confidence and I liked that."