Edwin Valero
"El Inca"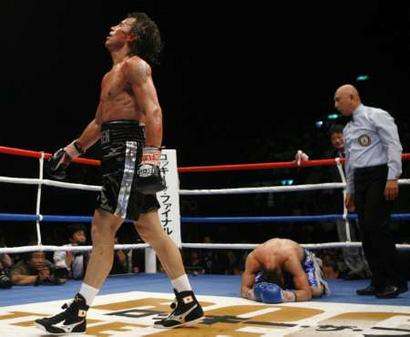 CLICK HERE Edwin Valero's complete record from boxrec.com
From Wikipedia, the free encyclopedia
Statistics
Real name

Edwin Valero

Nickname(s)

El Inca
El Dinamita
The Liquidator[1]

Rated at
Height

5 ft. 7 in. (170 cm.)

Nationality
Birth date

December 3, 1981 (1981-12-03) (age 26)

Birth place
Stance
Boxing record
Total fights

24

Wins

24

Wins by KO

24

Losses

0

Draws

0

No contests

0
Edwin Valero (born December 3, 1981 in Bolero Alto, Mérida, Venezuela) is an undefeated southpaw boxer who fought in the super featherweight (130 lb) division until he moved to lightweight. His professional boxing record is 24-0 (24 KOs, 19 of which occurred in the first round). Valero is a former WBA super featherweight champion.
Boxing career
Valero started boxing at the age of 12, reportedly compiling an amateur record of 86-6 with 57 knockouts. He was Venezuelan amateur champion three years running, as well as Central and South American Champion (beating Francisco "Panchito" Bojado).
On February 25, 2006, Valero set a new world record by winning his first 18 fights as a professional by first-round knockout (that record has since been broken broken by Tyrone Brunson). The previous record for consecutive first-round knockouts was 15 by Young Otto (record), who accomplished the feat in 1905. In Valero's nineteenth fight (March 25, 2006), Genaro Trazancos ended the first-round knockout streak by surviving until the second round.
Because of his awesome punching power and perfect knockout ratio, he became the darling of hard core boxing fans. His biggest backers in the sport includes Doug Fischer of maxboxing.com (who regularly covers Valero in his articles for the website which also aired videos of his workouts and sparring sessions) and Boxing Inside with Peter Palmiere (Boxing Inside airs on SPTV Channel 33 every Thursday night at 7pm.) The Los Angeles local cable show also aired Valero's workouts, sparring sessions and interviews conducted by journalist Palmiere.
Valero defeated Vicente Mosquera by tenth-round TKO on August 5, 2006. With this win, Valero won the WBA super featherweight title and has defended it four times. The last fight was against Takehiro Shimada in Tokyo on June 12, 2008.
On September 3, 2008, Valero vacated his WBA title and is planning to moved up to the lightweight class.[2]
Career roadblocks
On February 5, 2001, Valero was involved in a severe motorcycle accident in which he wasn't wearing a helmet. He fractured his skull and had surgery to remove a blood clot. This injury was sustained prior to him launching his pro career, and it has created roadblocks to major bodies sanctioning his fights. Valero claims that his Venezuelan doctor cleared him to fight on January 17, 2002, and he turned pro that July with a first-round KO.
Valero appeared to hit the jackpot when he was signed after his 12th pro fight by Golden Boy Promotions. Valero was scheduled to appear on HBO's Boxing After Dark, but in January 2004, he failed an MRI due to brain scan irregularities in New York and thus was not allowed to fight in the United States. As a result, the fight did not take place. Although he continues to fight outside the US, as of March 25, 2008, Valero was cleared to box in the state of Texas.