Humberto Soto
"La Zorrita"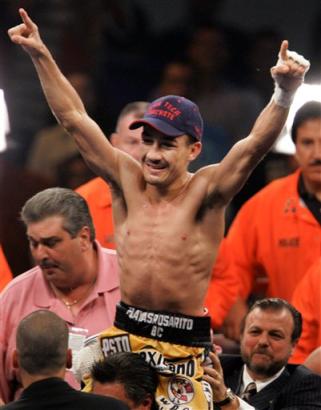 CLICK HERE Humberto Soto's complete record from boxrec.com
From Wikipedia, the free encyclopedia
Statistics
Real name

Armando Humberto Soto Ochoa

Nickname(s)

La Zorrita (The Fox)

Rated at
Height

5'7"˝ (171 cm.)

Nationality
Birth date

May 11, 1980 (1980-05-11) (age 28)

Birth place
Stance
Boxing record
Total fights

52

Wins

44 (82%)

Wins by KO

28 (62%)

Losses

6 (K.O. 1)

Draws

2

No contests

0
Armando Humberto Soto Ochoa is a Mexican professional boxer. Soto won the WBC interim featherweight title by beating Rocky Juarez on August 20, 2005, a fight he accepted with two weeks notice. He is known for his unorthodox boxing style, being referred to as a "gumby man" by boxing manager Emanuel Steward.
On November 17, 2007, became the challenger to fight Joan Guzmán, the reigning WBO Super Featherweight champion. Unfortunate for him, Soto lost by unanimous decision.
On June 28, 2008, Soto faced off against Francisco Lorenzo (33-4, 14 KOs) for the vacant interim WBC Super featherweight title. Soto knocked Lorenzo down twice in the fourth round with a barrage of punches. However, after lengthy consultations with officials at ringside, referee Joe Cortez disqualified Soto for hitting Lorenzo after he was down in what appeared to be a grazing punch. Cortez's decision was widely criticized and the WBC refused to award Lorenzo the title.
WBC president Jose Sulaiman condemned the decision as a "gross injustice" and one of the biggest he has seen in a long time. Sulaiman also announced that the WBC board of governors will vote on whether to declare the fight a no contest or to declare Soto the winner by knockout.[1][2][3] Lorenzo, therefore, was not presented the green WBC belt as its champion, since it, though, opted to ignore the official verdict, and declared the title vacant. Sulaiman stated he wasn't seeking to overrule the decision, but: "While we respect the authority of the (Nevada commission) for a decision of the fight, we are the only ones to have the authority to decide on the decision relating to the WBC world title."[4]
On October 11, 2008, Soto defeated Gamaliel Diaz to win the vacant WBC Superfeatherweight title by technical knock out. Soto knocked Diaz down in the first round and dominated him throughout the bout. Diaz was deducted two points for excessive holding and his corner refused to send him out for the eleventh round.