Manny Pacquiao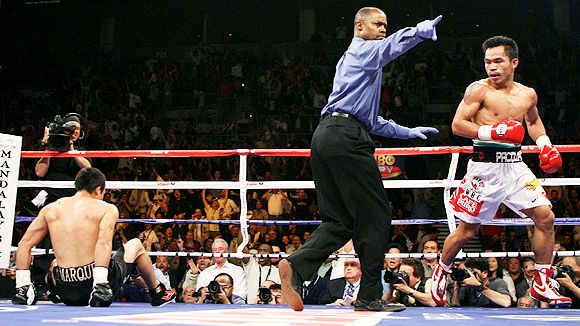 Manny Pacquiao's complete record: www.boxrec.com
From Wikipedia, the free encyclopedia
Statistics
Real name

Emmanuel Dapidran Pacquiao

Nickname(s)

Pac-Man
The Destroyer
People's Champ
Pambansang Kamao ("National Fist")
The Mexicutioner

Rated at
Height

5 ft 6.5 in (1.69 m)

Nationality

Filipino

Birth date

December 17, 1978 (1978-12-17) (age 29)

Birth place
Stance
Boxing record
Total fights

52

Wins

47 (90%)

Wins by KO

35 (75%)

Losses

3

Draws

2

No contests

0
Emmanuel Dapidran Pacquiao (born December 17, 1978), simply known as Manny Pacquiao or Pac-Man, is a Filipino professional boxer. He is currently the WBC Lightweight Champion and the WBC Super Featherweight Champion, and was the former world champion at IBF Super Bantamweight, and WBC Flyweight divisions. He is the first Filipino and Asian boxer to win three then later four world titles in different weight divisions. He took over as the Ring Magazine pound for pound number 1 ranked boxer in the world on June 9, 2008 after Floyd Mayweather, Jr. announced his retirement from boxing.[2]
Biography
Pacquiao started his professional boxing career in 1995 at 106 lbs (Light flyweight) at the age of 16 years. His early fights usually took place in small venues and were shown on Vintage Sports' Blow by Blow, an evening boxing show. His professional debut was a 4-round bout against Edmund Enting Ignacio on January 22, 1995, which Pacquiao won via decision, becoming an instant star of the program. Close friend Mark Penaflorida's death in 1994 spurred young Pacquiao to pursue a professional career.
His weight increased from 106 to 113 lbs before losing in his 12th bout against Rustico Torrecampo via a third-round technical knockout (TKO). As what sportscaster Joaquin "Quinito" Henson observed, Pacquiao clearly had not made weight. So he was forced to use heavier gloves than Torrecampo, thereby putting Pacquiao at a disadvantage.
Shortly after the Torrecampo fight, Pacquiao settled at 112 lbs, winning the WBC Flyweight title over Chatchai Sasakul in the eighth round only to lose it in his second defense against Medgoen Singsurat, or Medgoen 3K Battery, via a third-round knockout on a bout held at Nakhon Si Thammarat, Thailand. Technically, Pacquiao lost the belt at the scales by surpassing the required weight of 112 lbs (51 kg).
Following his loss to Singsurat, Pacquiao gained weight anew, this time stopping at the superbantamweight division of 122 lbs (55 kg), where he picked up the WBC International Super Bantamweight title, defending it five times before his next world title fight came.
Pacquiao's big break came on June 23, 2001, against IBF Super Bantamweight champion Lehlohonolo Ledwaba. Pacquiao stepped into the fight as a late replacement and won the fight by technical knockout to become the IBF Super Bantamweight champion on a bout held at MGM Grand, Las Vegas, Nevada. He defended this title four times and fought to a sixth-round draw against Agapito Sanchez in a bout that was stopped early after Pacquiao received a headbutt.
Pacquiao also represented the Philippines in the 2008 Olympics by holding the Philippine Flag during the entrance parade.
Pacquiao's rise
Pacquiao went on to defend his title four times before the match that many consider to have defined his career, a bout against the Mexican boxing idol Marco Antonio Barrera. Pacquiao, moving up in weight and in his first fight ever in the featherweight division, brought his power with him and defeated Barrera via a TKO in the 11th round at the Alamodome, San Antonio, Texas. Although this fight was not recognized as a title fight by any sanctioning bodies, Pacquiao was recognized as world champion by Ring Magazine after his victory [3], and he held that title until relinquishing it in 2005.
Only 6 months removed from his win over Barrera, Pacquiao went on to challenge another respected Mexican counterpuncher, Juan Manuel Márquez, then holder of the World Boxing Association (WBA) and International Boxing Federation (IBF) Featherweight titles. The fight held at the MGM Grand ended in a controversial draw after he knocked down Márquez three times in the first round but lost most of the latter rounds. One of the judges later admitted to making an error in the scorecards because he scored the first round as "10-7" in favor of Pacquiao instead of the standard "10-6" for a three-knockdown round.
In a bout held at Taguig City, Philippines, Pacquiao fought against Fahsan (3K-Battery) Por Thawatchai. Pacquiao sent 3K-Battery to the canvas three times en route to a knockout in the fourth round. A left uppercut to the jaw that lifted the Thai fighter's feet off the canvas ended the fight.
Manny once again moved up another division from 126 to 130 lbs to fight another Mexican legend, three-time division champion Érik Morales on March 19, 2005, at the MGM Grand. However, this time around, at his first fight in the superfeatherweight division, Pacquiao lost the 12-round match by a unanimous decision from the judges.
On September 10, 2005, Manny Pacquiao knocked out Héctor Velázquez, capturing the WBC International Super Featherweight title in the process, in a fight held at Staples Center, Los Angeles, California.
Pacquiao defeated Morales via a 10th-round TKO in a much-anticipated rematch on January 21, 2006 in Las Vegas at Thomas and Mack Center.
Newfound fame
After the Morales bout, Pacquiao was in the limelight again during the first week of February 2006 when a waitress working in a Manila nightclub claimed that he was the father of her son, born out of a whirlwind affair with the boxer. The boxer, allegedly, was giving the child financial support, which was also kept secret from his wife, Jinkee, until she found out. This caused a problem in their marriage, but things were soon mended.
Trainer Freddie Roach had previously voiced concerns about the late- night lifestyle and warned that the boxer was in danger of losing both his edge and focus. Roach noted that there are too many distractions surrounding Pacquiao in the Philippines.[4]
On July 2, 2006, Pacquiao defeated another Mexican, Oscar Larios, a two-time superbantamweight champion. Despite his camp's big promise of an early knockout, the fight went until the final round, with Pacquiao knocking down the Mexican two times during the 12-round bout for the WBC International Super Featherweight title held at the Araneta Coliseum in Quezon City, Philippines.[5]
In September 2006, Pacquiao signed a major deal with Golden Boy Promotions (GBP), headed by Oscar de la Hoya, which was good for seven fights.[6] This development was confirmed by his coach Freddie Roach. Under the deal, Pacquiao was guaranteed a prize money of US$5 million for each fight. With regard to profits made on each fight, Pacquiao would receive at least 90%, whereas the remaining 10% would go to Golden Boy Promotions.
Pacquiao and Morales fought for a third time (with the series tied 1-all) on November 18, 2006. Witnessed by a near-record crowd of 18,276, the match saw Pacquiao defeating Morales via a third-round knockout at the Thomas & Mack Center in Las Vegas.[7]
After the Pacquiao-Morales rematch, Arum announced that Manny returned his signing bonus check back to Golden Boy Promotions, signaling intentions to stay with Top Rank. This resulted in GBP's decision to sue the famed fighter over contractual breaches.[8]
At the end of 2006, he was named by both HBO and Ring Magazine as the fighter of the year, with HBO also naming him as the most exciting fighter of the year.
After a failed promotional negotiation with Marco Antonio Barrera's camp, Bob Arum chose Jorge Solis as his next opponent among several fighters that Bob Arum offered him to fight as a replacement. The bout was held in San Antonio on April 14, 2007. In the sixth round of the bout, an accidental headbutt occurred, giving Pacquiao a cut under his left eyebrow. The fight ended in the eight round when Pacquiao knocked Solis down twice; with Solis barely beating the count after the second knockdown, the referee (who was also a doctor) was prompted to stop the fight. The victory raised Pacquiao's win-draw-loss record to 44-3-2, with 35 KOs.
On June 29, 2007, it was announced that Top Rank and GBP agreed to settle their lawsuit, meaning the long-awaited rematch with Marco Antonio Barrera will occur despite being the number 1 contender for the super-featherweight title of Juan Manuel Marquez.
Since Bob Arum was out on a vacation, GBP's chief executive Richard Schaefer politely declined to discuss Pacquiao's purse from the October 6, 2007 rematch with Marco Antonio Barrera (at the Mandalay Bay Resort Hotel and Casino in Las Vegas). However, Pacquiao was likely to get a purse of $5 million, plus possibly a share of the pay-per-view rights.[9] Pacquiao defeated Barrera in their rematch via an easy unanimous decision. In the 11th round, Pacquiao's punch caused a deep cut under Barrera's right eye. Barrera retaliated with an illegal punch on the break that dazed Pacquiao but also caused the referee to deduct a point from Barrera. Two judges scored the bout 118-109, whereas the third scored it 115-112.[10]
In The Ring magazine, Pacquiao (45-3-2) remained at the top of the junior lightweight division (130 lbs). He had been in the ratings for 108 weeks. Pacquiao was also at No. 2 in the pound-for-pound category behind welterweight champ Floyd Mayweather.[11][12]
On November 13, 2007, he was honored by the WBC as Champ Emeritus during its 45th Annual World Convention held at the Manila Hotel.[13]
On November 18, 2007, the Manila Bulletin Online edition reported a possible bout between Pacquiao and Oscar de la Hoya. Although it remains to be seen whether it will come to fruition, the prevailing scenario will have Pacquiao battle against David Diaz, the WBC's current reigning lightweight titlist.[14]
On November 20, 2007, Jose Nunez, manager for WBO Superfeatherweight Champion Joan Guzman, accused Pacquiao's handler Bob Arum of evading a match between the two boxers to protect Pacquiao.[15] Guzman went as far as to directly call out Pacquiao at the postfight press conference of the Pacquiao-Barrera rematch in front of a stunned crowd at the Mandalay Bay Events Center's media room in Las Vegas.[16]
The 240-member House of Representatives of the Philippines, on August 7, 2008, issued a Resolution, sponsored by South Cotabato Rep. Darlene Antonino-Custodio, which recognized Pacquiao as a "people's champ" - for his "achievements and in appreciation of the honor and inspiration he has been bringing ... to the Filipino people." He received a plaque from Speaker Prospero Nograles.[17][18]
On July, 2008, it was announced that Pacquiao would be the flag bearer of the Philippines at the 2008 Summer Olympics.[19] He became the first Filipino athlete, non-Olympics competitor, to be the Team Philippines' flag-bearer during the August 8 opening ceremonies of the 2008 Summer Olympics at Bird's Nest, Olympic stadium. Swimmer Miguel Molina, Southeast Asia Games' Best Male Athlete, yielded the honor to Pacquiao, upon Gloria Macapagal-Arroyo's request to national sports officials on the Philippines at the 2008 Summer Olympics.[20]
Super Featherweight title
On March 15, 2008, in a rematch against Juan Manuel Marquez, Pacquiao won via a highly disputed split decision. Pacquiao won the WBC and The Ring superfeatherweight belts, making him the first Filipino to win three world titles in three different weight divisions (Pacquiao was a former WBC Flyweight Champion, IBF Super bantamweight, and now WBC Super featherweight). The fight was controversial, with some Filipino boxing analysts even saying Marquez should have been the winner.
During the postfight interview, Marquez's camp called for an immediate rematch. Richard Schaefer, GBP CEO, offered a $6-million guarantee to Pacquiao for a rematch. Pacquiao's promoter, Bob Arum, still stinging from the less-than-stellar revenue from Kelly Pavlik's immediate rematch with Jermain Taylor, said the fight will probably happen but only after there is time to "put a little air under it." Pacquiao, for his part, said "I don't think so, this business is over" because he planned to move to lightweight (135 lbs) to challenge David Diaz, the reigning WBC Lightweight Champion at the time. Diaz won a unanimous decision over Ramon Montano that night as an undercard of "Unfinished Business."[21]
WBC Lightweight title
On June 28, 2008, at the Mandalay Bay Resort & Casino in Las Vegas, Pacquiao defeated David Díaz via ninth-round knockout to become the WBC lightweight champion. With the victory, Pacquiao became the only Asian boxer to win four major titles in four weight classes and also became the first Filipino fighter to ever win a world title at lightweight.[22][23] The fight ended at 2:23 of the ninth round and was viewed by 8,362 spectators. Bob Arum announced that Pacquiao is most likely to fight November 15[24] versus 130-lb Venezuelan champion Edwin Valero or Humberto Soto in Planet Hollywood, and he also mentioned the name of WBA, WBO, and IBF lightweight champ Nate Campbell. "I can fight in November," Pacquiao stated, "Who I fight is the job of my promoter (Bob Arum)." Diaz had his best payday, $850,000, and Pacquiao earned at least $3 million.[25][26]
Bob Arum reported that the Pacquiao-David Diaz fight which made $ 12.5-M (250,000 pay-per-view hits at $ 49.95 per hit), paled in comparison to the 400,000 in the Marquez showdown. The sales reached over $20 million. Pacquiao's 3 classic fights with Erik Morales earned a combined sales of 1 million pay-per-view hits. After HBO and Top Rank get their share, Pacquiao and Diaz will get theirs based on the contract, that is, in addition to the $ 3 million contract pay. Official records revealed an attendance of only 8,362 tickets of the seating capacity of 12,000, because of rising gasoline costs.[27]
Meanwhile, WBC president Don Jose Sulaiman clarified that Pacquiao is not a 5-division but 4-division world champion, because the November 2003 Barrera fight was a non-title bout.[28]
Holding both the WBC Super Featherweight and Lightweight Titles following the win, Pacquiao decided to vacate his super featherweight title in July 2008 in order to defend his lightweight crown.[29]
Upcoming fights
For his next fight set on Nov. 8, Pacquiao said he prefers to fight British superstar Ricky Hatton over Venezuelan knockout artist Edwin Valero. "Kung ako ang papipiliin ng makakalaban, ang gusto ko si Hatton tapos si Valero. (If I'm made to choose for an opponent, I want Hatton first, and then Valero.)" Like Pacquiao, Roach also wants Hatton next in line as that fight at 140 pounds would be a guaranteed moneymaker, to the tune of at least $10 million for each boxer. Top Rank president Bob Arum, Pacquiao's promoter, however, is keen on having Valero, (24-0 with 24 knockouts) as Pacquiao's next opponent. (source:[1]) (Jongie413 (talk) 05:36, 11 July 2008 (UTC))
Pacquiao's next fight is set for November 15. Bob Arum said: "So November 15th is the preferable date because both HBO and Showtime told us they'd rather go with pay-per-view on the 15th. The venue looks like it will be Planet Hollywood, in the Theater of the Performing Arts. It's beautiful, 7,400 seats, it's sensational. And the overflow can watch in on closed-circuit - 5,000 closed-circuit seats. Pacquiao will face either Edwin Valero or Humberto Soto.
"Whoever offers us the better deal as far as working with us to publicize the fight is going to get it. In other words, as long as we get the use of their assets to promote the fight."[30] Boxing Confidential reported on July 11 that Top Rank Promotions applied to promote the fight card at the Planet Hollywood in Las Vegas. Keith Keizer, executive director of the Nevada State Athletic Commission, confirmed Top Rank's application.[24]
The World Boxing Council gave Pacquiao until July 28 "to decide which between his 2 championships belts he would like to keep." WBC president Jose Sulaiman issued the statement: "If Pacquiao decides to relinquish the lightweight division title and keep the super-featherweight title, Humberto Soto must fight Pacquiao for the WBC super-featherweight world title, with Francisco Lorenzo fighting the winner."[31][32]
There have been talks of staging a fight against Oscar De La Hoya fight later this year, specifically, December 6, 2008. The fight is said to be on a catchweight of 147lbs. It was reported that Golden Boy Promotions offered Pacquiao $10 million to fight De La Hoya, although Pacquiao was hoping for a close to a $20 million deal. Pacquiao's trainer Freddie Roach says that he's ok if Pacquiao gets around $15-$18 million.[33]
Other facts about Manny Pacquiao
A movie based on his life has been produced and was released on June 21, 2006. The movie is titled Pacquiao: The Movie featuring Filipino actor Jericho Rosales as Manny Pacquiao and is directed by Joel Lamangan.[34] Despite its huge P50,000,000 ($1,031,991) budget, wide distribution (80 cinemas), and strong marketing, the movie flopped at the box office, grossing a total of only P4,812,191 ($99,322), as confirmed by Lamangan.

Pacquiao produced the song "Para Sa 'Yo Ang Laban Na 'To" (Translation: "This Fight is for You"), which became a hit single all over the Philippines. It expressed a nationalistic theme and Pacquiao's struggles in the ring. The release of the song came weeks before his second bout with Morales, leading up to the promos to the fight. Although "Para sa 'Yo" is his first attempt at professional music recording, Pacquiao's victory against Morales greatly contributed to the song's popularity.

After their third bout, Pacquiao and Morales appeared together in a San Miguel Beer commercial (together with Roach and friends) filmed for the Filipino audience. The commercial ended with Pacquiao and Morales toasting their friendship with San Miguels.

In another commercial advertisement of San Miguel Beer, Pacquiao was seen together with Jet Li and other Filipino celebrities such as Iwa Moto and Valerie Concepcion.

During her sixth State of the Nation Address on July 24, 2006 in Quezon City, Philippine President Gloria Macapagal-Arroyo cited Pacquiao as one of the nation's modern-day heroes. "Mabuhay ka, Manny," said Arroyo.[35] In return, the champion delivered his own speech endorsing Arroyo. "The President said many good things in the SONA." Pacquiao remarked.

It is not widely known that professional wrestlers The Undertaker and Christian Cage were actually a part of Pacquiao's entourage during the Pacquiao vs. Velázquez fight in 2005. An avid boxing fan, The Undertaker was the person who carried the US flag while leading Team Pacquiao to the ring. This was also confirmed by another fellow wrestler, Batista. Batista revealed this during a televised interview in the Philippines while promoting an upcoming WWE promotional tour that was set to be shown in this country.

Pacquiao owns a lottery outlet for the Philippine Charity Sweepstakes Office.

Pacquiao is the owner of the Pac Man Gensan of the Mindanao Visayas Basketball Association. The team is based in his hometown of General Santos City. Pacquiao even suited up for the team for a few games during the first conference of said league.

Pacquiao is the fourth nonfictional Filipino featured in a video game. He is featured in the video games Fight Night: Round 2 and Fight Night: Round 3. The first was Dr. Jose Rizal in Medal of Honor. The second two were pool legends Efren Reyes and Francisco Bustamante, who both appeared in the World Championship Pool 2004 video game.

Pacquiao made an appearance in the Pugad Baboy (vol. 19) comic strip.

Philpost Postmaster General Hector Villanueva announced on May 3, 2008, that Pacquiao will be the first Filipino athlete to appear in a postage stamp.[36]

After his fight with David Diaz, the Boston Celtics, headed by their main man Kevin Garnett, whom Pacquiao said he is a fan of, came to visit his locker room to celebrate. It has been said that the Celtics team reserved 16 seats to watch the match between Pacquiao and Diaz.

His younger brother Alberto Dapidran Pacquiao, known simply as Bobby Pacquiao is also a lightweight boxer who won the Philippine super featherweight title four times in 2002 and 2004.

Gloria Macapagal-Arroyo, on July 4, 2008 met and designated Pacquiao as the Philippines' flag-bearer for its delegation to the Beijing Summer Olympics tonight. He donated 3 million pesos (66,700 U.S. dollars) for the victims of Typhoon Frank with international name Fengshen.[37][38]
Politics
Pacquiao ran for a congressional seat to represent the 1st district of South Cotabato, but he was defeated by Darlene Antonino-Custodio. Custodio had 139,061 votes, whereas Pacquiao received 75,908 votes.[39]
Amidst all the scandals and clamors for the ousting of the president, rumors are ripe that the president herself was the one who pushed for the boxer's candidacy. Commission on Elections, escorted by Arnold "Ali" Atienza (son of then Manila Mayor Lito Atienza), to transfer his residence from General Santos City to Manila. This fueled speculations that he may seek an elective post in the nation's capital, which even gave him the title "Adopted Son" after he won his earlier bouts. Now, Pacquiao himself said he will enter politics after he ends his boxing career. Although boxing is far from over for him, he admitted that he is thinking about starting a career in politics. He quietly visited the Philippine
His name was once mentioned as a possible vice-mayoralty candidate to the younger Atienza when the latter sought the city's highest post in the 2007 elections, but this did not pan out after Sen. Panfilo Lacson, then the leading candidate for Manila mayor, did the same after there were contentions regarding residency issues. (Similarly, Pacquiao also had such issues).
Being known as an Arroyo supporter, his name is also being floated as a candidate of the Lakas-CMD party for the mayoralty race of General Santos City against incumbent Mayor Pedro Acharon. Instead, he was recently sworn-in as a member of the Liberal Party under the Atienza wing, thus further fueling his political ambition.
On February 12, 2007, the famed boxer announced that he was running for congress representing South Cotabato.[40] His decision however easily turned off both his fans and the general public.[41] Election experts stressed that as Pacquiao insists on participating in his next professional boxing match, he will immerse himself into a legal conflict regarding campaign exposure, especially since the match will be televised nationwide. Aside from that, COMELEC commissioner Benjamin Abalos mentioned a possible legal entanglement could ruin Pacquiao's candidacy because he already registered himself as a Manila resident months before.
Numerous sports personalities and analysts around the Philippines expressed that Pacquiao should think seriously and deeply about his sports career, which could potentially be destroyed by the dirty world of politics. Popular columnist Randy David mentioned that Pacquiao allowed himself to be used by selfish and desperate politicians.[42] On February 24, 2007, in Cebu City, Pacquiao, for the first time ever, was booed by thousands of spectators as his presence was acknowledged by the organizers of The Battle of Cebu, a WBO-sanctioned boxing festival.[43][44][45][46][47] The embarrassment later led to confusing statements made by Manila Mayor Lito Atienza[48] that the famed fighter would withdraw. Despite the statements, however, Pacquiao confirmed to the public that he would still run for office. The negative sentiment among Cebuanos over Pacquiao's political aspiration was felt even before the "The Battle of Cebu" was held because at least one citizen's comment got published by local newspaper Sun Star.[49]
In relation to the April 14 fight with Arce, the political opposition stated that they would not press for a ban on the broadcasting of the match despite its potential to violate election campaign rules.[50] Although he won over Solis, Pacquiao's appeal diminished most likely due to his political ambition. His last fight attracted noticeably smaller audiences, and his performance was considered by many as disappointing.[51][52] Some election candidates even turned the Pacquiao-Solis match into campaign gigs.[53] Over at General Santos City, Diocese of Marbel spokesman Fr. Angel Buenavides considered President Arroyo's endorsement of Pacquiao as a "curse" because constituents in the area have strong anti-Arroyo sentiments.[54]
On May 17, 2007, Pacquiao suffered a lopsided election defeat to incumbent representative Darlene Antonino-Custodio, with a deficit of approximately 37,000 votes according to the NAMFREL tally. Meanwhile, WBC head Jose Sulaiman stated that Pacquiao "doesn't appear to be having the same dynamic impact at the ballot box, as he does in the ringed square."[55] The defeat became a depressing matter for the boxer himself because he lost a huge sum of money when his supporters allegedly funneled campaign funds to their own pockets. Pacquiao's personal money was part of the campaign budget.[56] Ironically, Pacquiao's fans rejoiced over his defeat.[57] Some even declared his loss as a "victory" for boxing. On May 20, 2007, Manny Pacquiao formally conceded to his congresswoman Antonino-Custodio, vowing to return to boxing and spend more time with his family.[58][59][60]
On an unrelated event, Pacquiao denied rumors on July 7th that he failed to pay taxes for a luxury vehicle to the Philippine Bureau of Customs when he bought a Porsche Cayenne 2 weeks before his match with Erik Morales. (A report by Thomas Hauser of secondsout.com said the Porsche Cayenne costs $67,639 or P3.5 million}.[61]
On August 1, 2007, Pacquiao filed a P30-million libel suit against four journalists of the Manila Bulletin - sports writer Nick Giongco, publisher Hermogenes P. Pobre, editor-in-chief Cris J. Icban Jr., and Sports section editor Ding Marcelo. The complaint stemmed from the article "Trouble in Paradise-Again?" written by Giongco and published July 25 in F-2 sports section of the Manila Bulletin. Pacquiao cited the alleged libelous fourth paragraph of the article - "Pacquiao, who spent millions in unsuccessful bid to win a congressional seat in his hometown in General Santos City, is reported to be a compulsive gambler and is known to bet hundreds of thousand in casinos, cockfighting, and billiards."[62]On December 20, 2007, the P 30-million libel case filed by Manny Pacquiao was dismissed via "affidavit of desistance." Pacquiao stated that "pursuing the case would only cause inconvenience to him and his family".[63]
On July 2008, Pacquiao openly expressed his desire to once again run for a congressional seat by 2010 and retiring from boxing.[64]
Other media
With his popularity, various business sectors have solicited Manny Pacquiao's help in endorsing their products through commercial advertisements in print and in broadcast media. These include detergents, medicines, foods, garments, telecommunications, and even a political ad for Chavit Singson during the May 14, 2007 elections.
On April 12, 2007, the COMELEC cancelled his commercial appearances in accordance with existing Philippine election laws. Airing of the commercials resumed after the elections.
In September 2007, he signed up with GMA Network as an actor.
On December 17, 2007, after finishing a movie, "Anak ng Kumander", Pacman went to the GMA Network to tape his first episode of Pinoy Records.[65]
[
Titles
Major:
WBC world flyweight champion

IBF world superbantamweight champion

WBC world superfeatherweight champion

WBC world lightweight champion
Minor:
OPBF flyweight champion

WBC international super bantamweight champion

WBC international super featherweight champion
The Ring titles:
World featherweight champion

World super featherweight champion
Recognitions
Preceded by
Ricky Hatton
The Ring Magazine Fighter of the Year
2006
Succeeded by
Floyd Mayweather Jr.
Preceded by
Chatchai Sasakul
WBC Flyweight Champion
December 4, 1998 – September 17, 1999
Succeeded by
Medgoen Singsurat
Preceded by
Reynante Jamili
WBC International Super Bantamweight Champion
December 18, 1999 - June 23, 2001
Vacant

Title next held by

Napapol Kiatisakchokchai
Preceded by
Lehlohonolo Ledwaba
IBF Super Bantamweight Champion
June 23, 2001 – July 26, 2003
Vacant

Title next held by

Israel Vázquez
Preceded by
Marco Antonio Barrera
The Ring Magazine Featherweight Champion
November 15, 2003 - March 19, 2005
Vacant
Vacant

Title last held by

Érik Morales
WBC International Super Featherweight Champion
September 10, 2005 - March 15, 2008
Vacant

Title next held by

Yuriorkis Gamboa
Vacant

Title last held by

Brian Mitchell
The Ring Magazine Super Featherweight Champion
March 15, 2008 - July 16, 2008
Vacated
Vacant
Preceded by
Juan Manuel Márquez
WBC Super Featherweight Champion
March 15, 2008 – July 16, 2008
Vacated
Vacant
Preceded by
David Díaz
WBC Lightweight Champion
June 28, 2008 - present
Incumbent