Miguel Cotto
"Junito"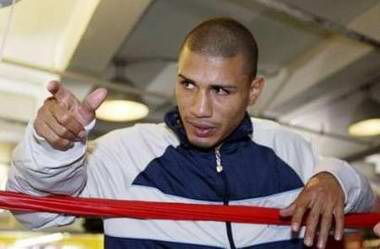 CLICK HERE Miguel Cotto's complete record from boxrec.com
From Wikipedia, the free encyclopedia
Statistics
Real name

Miguel Ángel Cotto

Nickname(s)

Junito

Rated at
Height

5ft. 7in. (1.70m)

Nationality
Birth date

October 29, 1980 (1980-10-29) (age 27)

Birth place
Stance
Boxing record
Total fights

33

Wins

32

Wins by KO

26

Losses

1

Draws

0

No contests

0
Miguel Ángel Cotto (born October 29, 1980 in Caguas, Puerto Rico) is a Puerto Rican professional boxer. He is the former WBO light welterweight and former WBA welterweight champion. As an amateur, Cotto represented Puerto Rico in the lightweight and light welterweight divisions at various international events including the 1999 Pan American Games, the 2000 Summer Olympics and the 1998 Junior World Championships where he won a silver medal.
Cotto began his professional career in 2001, and on September 11, 2004 he defeated Kelson Pinto for the WBO junior welterweight championship. He defended the title successfully a total of six times before vacating it when he ascended to the welterweight division. On his first match on this division he defeated Carlos Quintana for the vacant WBA welterweight championship. Cotto has successfully defended this title against Oktay Urkal, Zab Judah, Shane Mosley, and Alfonso Gómez.
Personal life
Cotto was born and raised in Caguas, with several figures linked to boxing in his family, including his father Miguel Cotto Sr., his brother José Miguel Cotto, his second cousin Abner Cotto and his uncle and boxing trainer Evangelista Cotto. He is married to Melissa Guzmán with whom he has two children, Alondra and Miguel Cotto III.[1]
Cotto has a daughter outside of this marriage with another woman, who was born in November 2006.[2]
On May 29, 2007 Cotto solicited a Protection Order against the mother of his child.[3] The order was granted and it prevented her from gaining access to Cotto's house in the "Valle del Turabo" sector of Caguas, Puerto Rico and the Bairoa Gym, where he usually trains.[4] The case was dropped on June 14, 2007 when Cotto attended a citation and asked judge Bernardo Solá to lift the Protection Order.[5]
Early Years and amateur career
As a child, Cotto was taken to the Bairoa Gym in Caguas.[6] There, he was able to develop into a top amateur fighter who won several international competitions and represented Puerto Rico at the 2000 Sydney Olympics.[6] After being eliminated from those games in the first classificatory round, Cotto decided to turn professional.[6]
Cotto participated in several international tournaments, these include: The 1998 Junior World Championships that took place in Buenos Aires, Argentina, where he finished in second place while competing in the Lightweight division.[6] His three victories here were by points, the results were: Andrey Kolevin of Ukraine by points 15-3; Dana Laframboise of Canada by points 6-1, and Darius Jasevicius representing Lithuania 9-5. His only loss was to Anton Solopov of Russia by points with a score of 8-9. In 1999, Cotto competed in the Pan American Games that took place in Winnipeg, Canada. He only fought once in a loss to Dana Laframboise of Canada by points with a final score of 2-5. Following his participation in the Pan American tournament, Cotto was part of the Boxing World Championships in Houston, Texas.[6] He lost his only fight by points to Robertas Nomeikas. In his final amateur tournament, Cotto represented Puerto Rico as a Light Welterweight at 2000 Sydney Olympic Games where he lost to Mahamadkadir Abdullayev of Uzbekistan by points.
Professional career
Early in his career Cotto defeated former world title contender John Brown by decision in the tenth round, he led the score through the entire fight and scored a knockdown in the second round. The judges gave Cotto scores of 100-89 twice and 100-88.[7]
In 2001, Cotto suffered a dangerous injury that threatened his boxing career. As he was driving to the gymnasium at 5 a.m. in the morning one day, he apparently fell asleep and had an accident, breaking his arm and requiring hospitalization.[8]
On September 13, 2003, Cotto defeated Demetrio Ceballos by knockout in the seventh round at Las Vegas. In a fight where Cotto injured Ceballos with numerous combinations in the sixth round, switching between the orthodox and southpaw stances. In the seventh round Cotto displayed an aggressive style that led to the referee stopping the fight with 0:32 remaining in the round. With this, he was ranked number one in his division by the WBA.[9]
Cotto's first fight of 2004 was a fourth round knockout victory over the former world title contender Victoriano Sosa. This was after an eventful week prior to the fight, which included Cotto having to wait four hours for his luggage to arrive (after a 2 a.m. local time arrival) at McCarran International Airport in Las Vegas, and almost being removed from the Mandalay Bay Hotel, where the fight was held, by a security guard who thought he was an unaccompanied minor.[10]
On April 8, 2004 he defeated the former world title challenger, Lovemore Ndou, by unanimous decision in Las Vegas.[11] The first three rounds of the fight had a slow pace with neither of the boxers establishing control of the fight.[11] Cotto dominated the fourth and fifth rounds managing to land combinations on Ndou's head.[11] Ndou won the seventh and eighth rounds after landing more accurate hits than Cotto. The last three rounds were even with both fighters establishing short periods of control in the fight.[11] The judges gave Cotto scores of 117-111, 116-112 and 115-113.[11]
Winning and defending the WBO title
On September 11, 2004 Cotto faced Kelson Pinto from Brazil, for the vacant WBO junior welterweight title. This represented the third fight between them, with Pinto being victorious in their two previous encounters, both of which took place while they were still amateurs. The fight was televised by HBO from San Juan, Puerto Rico. During this card Cotto utilized a defensive stance with his hands in a high position instead of his usual aggressive orthodox stance.[12] Over the course of the fight Cotto scored three knockdowns and won the World Boxing Organization Junior Welterweight Championship by knockout in the sixth round.[12]
On December 11, 2004 he successfully defended his title, beating former world champion Randall Bailey by knockout in the sixth round, as part of the Vitali Klitschko-Danny Williams undercard in Las Vegas.[13] Cotto's performance was described as a result of hand speed and accuracy.[13] During the fight Bailey received punches in his face that opened cuts over and under both of his eyes.[13] As a result of the cuts Bailey was examined by the ringside physician. Following this Bailey expressed that he didn't want to continue and the referee stopped the fight at 1:39 of the sixth round.[13] Eleven days later, on December 22, 2004 the Puerto Rican boxing commission named Cotto as Puerto Rico's fighter of the year for 2004.[14] Cotto's second title defense took place on February 26, 2005 in the Rubén Rodríguez in Bayamón, Puerto Rico against Demarcus Corley.[15] During the fight Cotto practiced a boxing style that was more aggressive than usual, trading hits with Corley over the course of the first round.[15] During the fight both boxers were deducted one point following illegal low blows.[15] Cotto scored three knockdowns before the fight was stopped by the referee at 2:45 of the fifth round following a combination by Miguel.[15] Corley claimed that the referee stopped the fight prematurely stating that "the ref just stopped the fight premature. If he wanted to stop the fight, he could have stopped it when I had [Cotto] hurt."[15] Just a few days after retaining the crown versus Corley, Cotto received a personal blow, when his stablemate and friend, former 2004 Olympian Joseph Serrano, was shot in the head upon leaving the Bairoa gym. Serrano survived the shot, but was in critical but stable condition at a local hospital.
On June 11, 2005 Cotto faced the last man to beat him as an amateur, former Olympic gold medalist Mohamed Abdulaev from Uzbekistan. As amateurs, Abdulaev eliminated Cotto from the first round of the 2000 Sydney Olympics. This time they met as professionals in New York City's Madison Square Garden. Before the beginning of the fight Cotto received a positive ovation from the public.[16] During the first round Miguel went on the offensive scoring hits on Abdullaev's head and body while he was in a defensive stance.[16] In the fourth round a left hook by Miguel hurt Abdullaev, who proceeded to focus his hits on Cotto's body.[16] Abdullaev's offense was effective in the sixth and seventh rounds and as a result of this Cotto assumed a defensive stance.[16] Following the eighth round Abdullaev's eye was swollen to the point of being almost entirely closed.[16] In the ninth round following accurate punches by Cotto the fight's referee paused the fight and asked the ringside doctor to examine Abdullaev's eye.[16] After being examined by the doctor Abdullaev indicated to the referee that he could not continue, this way Cotto retained the Welterweight division championship.[16]
Miguel's third championship defense took place on September 24, 2005 at Boardwalk Hall in Atlantic City, New Jersey, against Ricardo Torres of Colombia.[17] In the first round Cotto had an offensive advantage and scored a knockdown on Torres.[17] In the second round after trading hits Torres scored a knockdown on Miguel.[17] The last seconds of the round were evenly matched with both boxers finishing the round injured.[17] Cotto was apparently in better condition when the third round began and was dominating the fight at that point. With two minutes remaining in the round one of Cotto's punches landed in Torres' beltline. Following this Torres was granted thirty seconds to recover by the referee.[17] Cotto dominated the fourth round and Torres won the fifth.[17] Cotto won and scored a knockdown in the sixth round. At 1:24 of the seventh round a left hook by Cotto knocked Torres out.[17]
On March 4, 2006, Cotto defended his WBO Junior Welterweight title by knocking out Gianluca Branco, who had to give up during the eighth round of their bout due to a shoulder injury.[18] Cotto dominated the fight as a result of jab combinations in a card that took place in Bayamón, Puerto Rico.[18] Cotto's next scheduled match was against the then-undefeated Paul Malignaggi in a fight that took place on June 10, 2006 in Madison Square Garden.[19] Cotto opened a cut over Malignaggi's right eye in the first round, [19] which, according to Malignaggi, affected his performance over the course of the fight, by stating "this was the first time in which I was cut, and the blood kept going into my eye. And it bothered me the entire fight. I was not able to see very well. Cotto's a great fighter, but I'm disappointed, as I wanted to be the champion".[19] Cotto won the fight by unanimous decision with scores of 116-111 and 115-112.[19] Malignaggi suffered a fractured right orbital bone and his jaw was injured, he was taken to Roosevelt Hospital after the fight's outcome was announced.[19]
Welterweight
Cotto relinquished his title in late 2006 and announced his intention to move to the Welterweight division to challenge Carlos Quintana for a major title. The fight took place on December 2, 2006. Cotto defeated Quintana by technical knockout in the fifth round. Following a punch to the body, Quintana surrendered prior to the start of the sixth round and Cotto won the vacant World Boxing Association Welterweight Championship.[20] Cotto's Welterweight reign began successfully on March 3, 2007 when he retained his belt with a technical knock out victory in the eleventh round over Oktay Urkal. Urkal's corner threw in the towel because he was apparently down in the fight, and had just had a second point deducted for a head butt, leading to his corner's belief that the referee was unfair.[21]
On June 9, 2007 Cotto defended the WBA Welterweight Title against Zab Judah in New York City before a sellout crowd at Madison Square Garden. The bout included two low blows by Cotto (which led to a point deduction) and at stoppage had Cotto leading 97-91. Cotto won by technical knockout in the eleventh round when the referee stopped the fight.[22] Judah argued that the illegal blows played a role in his defeat. "He hit me hard twice and the referee didn't do anything about it," he said. "I thought they were intentional. Those low blows took a lot out of me. I want a rematch," added Judah.[23] Judah made numerous claims including a biased referee.[23]
Miguel Cotto and Shane Mosley fought on November 10, 2007 at Madison Square Garden in a card made possible by a legal settlement between Top Rank Boxing, Cotto's promoter, and Mosley's promoter, Golden Boy Promotions.[24] The fight was broadcast on HBO Pay-Per-View and was won by Cotto via unanimous decision. During the course of the fight Cotto pursued Mosley who was reacting in a slow fashion.[25] Late in the fight Mosley displayed more aggression at one point becoming the aggressor.[25] Cotto's performance was described as "a rare moment in sports when a sudden star rises from what is categorically termed as goodness, to the cusp of greatness."[25]
On April 12, 2008, Cotto successfully defended the championship against Alfonso Gómez. Throughout the fight Cotto scored three knockdowns before the fight was stopped following the fifth round, when the doctor indicated to the referee that Gómez couldn't continue.[26] Cotto was selected the World Boxing Association's "Boxer of the Year", during the organization's annual award celebration, which took place in Buenos Aires.[27]
On July 26, 2008, at the MGM Grand in Las Vegas, Nevada, Cotto suffered his first loss as a professional boxer to Antonio Margarito in an unsuccessful title defense. Cotto had taken the early initiative, frequently landing a series of punches on Margarito during the early rounds while using his footwork to avoid danger. However, Margarito presented constant offensive pressure of Cotto and eventually began to wear down Cotto's resistance by trapping him against the ropes. Cotto was hurt in the seventh round after a pair of Margarito uppercuts caused his nose to bleed. Margarito continued to chase his opponent down and inflicted further damage towards the end of the tenth round. Margarito then threw a series of punches at the start of the eleventh round, with Cotto against the ropes and bleeding profusely. A combination from Margarito finally forced Cotto to his knee. He got up, but Margarito continued landing combinations. Evangelista Cotto threw in the towel after a second knockdown. Two judges had Margarito ahead by a score of 96–94 at the time of the stoppage, while the third scored the fight even.[28] HBO analyst Harold Lederman had also scored the fight even.