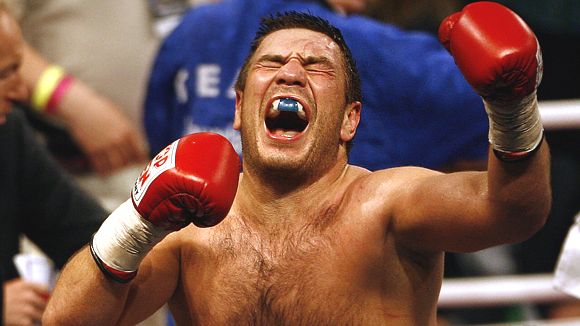 CLICK HERE Ruslan Chagaev's complete record from boxrec.com
From Wikipedia, the free encyclopedia
Statistics
Real name

Ruslan Chagaev

Nickname(s)

White Tyson

Rated at
Height

1.85 m (6 ft 1 in)

Nationality
Birth date

October 19, 1978 (1978-10-19) (age 29)

Birth place
Stance
Boxing record
Total fights

25

Wins

24

Wins by KO

17

Losses

0

Draws

1

No contests

0
Ruslan Chagaev (Uzbek: Ruslan Chagayev; Russian: Руслан Шамилович Чагаев; Tatar Cyrillic: Руслан Шамил улы Чагаев, Latin: Ruslan Şamil ulı Çağayıv) born October 19, 1978 in Andijan, Uzbek SSR, Soviet Union) is a professional boxer, currently holding the WBA heavyweight title. As an amateur boxer, he has won the Asian and World Championships in the heavyweight (81-91 kg.) category. Chagaev is an Honored Sportsman of the Republic of Uzbekistan and nicknamed "White Tyson."
Amateur achievements
Chagaev, a two-time world amateur champion, defeated legendary Cuban boxer Félix Savón to capture the gold medal at the 1997 World Championships but was then stripped of his crown for having two professional fights prior to the championships. Chagaev was reinstated as an amateur the following year when the fights were declared exhibitions. In summary, Chagaev won 82 of his 85 amateur fights.
Chagaev vs Savón
Chagaev is notable for being the only foreign fighter to defeat Félix Savón twice in the international competitions. First at the age of 19, he beat the then 2-time Olympic champion 14-4 to capture the 1997 World Heavyweight title. In 1999, he defeated him again 7-2 in the final of an international boxing cup in Plovdiv, Bulgaria. Savon was able to avenge defeats in the 1999 World Championship, beating Chagaev 9-1.
Professional achievements
Although he fought twice in 1997, Chagaev did not start fighting regularly until 2001. The only flaw on his record came on an October 5, 2002 bout against Rob Calloway in Detroit, Michigan. At the end of third round, the fight was stopped due to Calloway having a wound caused by a headbutt. Michigan boxing rule mandated that the fight be called a Technical Draw (TD) since the bout ended by an accidental foul. Usually four rounds are needed to go to the score cards for decision.
Chagaev slowly but steadily climbed up the heavyweight ranks, first avenging the no-contest with a brutal second round knockout of Calloway, then beating Klitschko-like Ukrainian prospect Vladimir Virchis in a close and intense punchfest, and slowly took apart prominent British boxer Michael Sprott, who upset Virchis a year earlier.
In November 18, 2006, he fought the former WBA champion John Ruiz, and prevailed in a close contest. He took a split decision with scores of 117-111 and 116-112 for Chagaev, and 115-114 for Ruiz. Chagaev became the mandatory challenger for a shot at Nicolay Valuev, the WBA heavyweight champion at the time. Chagaev defeated Valuev on April 14, 2007 by a majority decision (117-111, 115-113 and 114-114) to win the title. Uzbekistani gamers who were inspired by the victory thus created a flash game called "Zabei Valueva" (Russian for 'Beat Valuev'). (see external links.)
On June 26, 2007, it was announced that Ruslan Chagaev would partake in a heavyweight unification bout with WBO heavyweight champion Sultan Ibragimov. The fight was due to take place in Moscow on October 13, 2007 and would have been the first heavyweight unification bout since 1999;[1] however, Chagaev had to drop out of the fight after contracting hepatitis B. . At that point, it was not clear whether he would have been able to compete at all, with WBA considering a championship tournament for Chagaev's crown.[2] After Ibragimov defended his crown against Evander Holyfield, however, it was announced that Chagaev was able to recover.
Chagaev defended his WBA heavyweight title against Matt Skelton on January 19, 2008 by unanimous decision.
His next mandatory defense was to be a rematch on July 5, 2008 with Nicolay Valuev, who defeated former WBO champion Sergei Liakhovich by unanimous decision to earn the right. However, the fight had to be cancelled after Chagaev suffered a complete tear of an Achilles tendon during his final sparring session in preparation for the defense, causing Chagaev's second postponement of the match. Because of the injury and necessary recovery time, the WBA elected to make Chagaev "Champion in recess," and mandated that top-contenders Valuev and John Ruiz meet for the vacated title.[3]
Ethnicity
Chagaev's parents, Shamil and Zamira Chagaev, are from the Tatar village of Kalda, Barysh, Ulyanovsk Oblast, Russia, who moved to Uzbekistan in the 1950s.