Victor Ortiz
"Vicious Victor"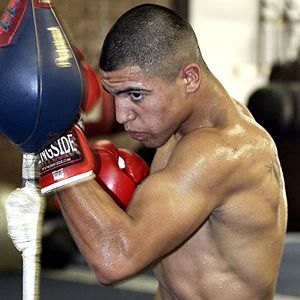 CLICK HERE Victor Ortiz's complete record from boxrec.com
From Wikipedia, the free encyclopedia
Victor Ortíz (b. 1987,January 31 in Liberal, Kansas ) is a Mexican American boxer touted as a 140/147lbs prospect.
Amateur
Ortíz is a right-hander who nevertheless chooses to fight from a southpaw stance."I'm naturally right-handed. Everything I do is right-handed. My power is just built on my left hand, somehow. Fighting left-handed was just more comfortable for me. I was just a better boxer that way. My defense was better, I didn't get hit as much. I just developed myself into a left-hander. I don't even like to switch to right-handed." Ortiz is originally from The Garden City Boxing Club,in Kansas. He won the National Jr. Olympics and the PAL championships in 2003 at 132lbs.
Pro
He started his pro career in 2004. He is fighting out of the La Colonia gym in Oxnard, California ,coached by former IBF jr. lightweight world champion Roberto Garcia and Roberto's father, Eduardo. In 2005 he was controversially disqualified in a bout against unknown Carlos Alarcon, his only loss to date, he also has a technical draw as one fight was stopped by injuries. In 2007 he beat his first better known opponent in Emmanuel Clottey from Ghana.
Dan Raffael from USA Today comments:"Ortiz [is] one of the most exciting and talented prospects in the sport. Although he has a loss and a draw on his record, don't pay any attention to the blemishes. The draw was a technical draw because of a head-butt in a fight he was dominating. The loss was a ridiculous 2005 first-round disqualification. Top Rank has big plans for Ortiz, a leading candidate for prospect of the year..."
In November he KOd Carlos Maussa in the first round.
On September 13, 2008, Ortiz (who signed with Oscar De La Hoya's Golden Boy Promotions) pulled his 17th career knockout and the NABO 140-pound belt by punishing Roberto Arrieta throughout the fight's 5 rounds. Ortiz knocked down Arrieta in the 2nd, 4th and 5th rounds when Jay Nady stopped the fight.[1][2]