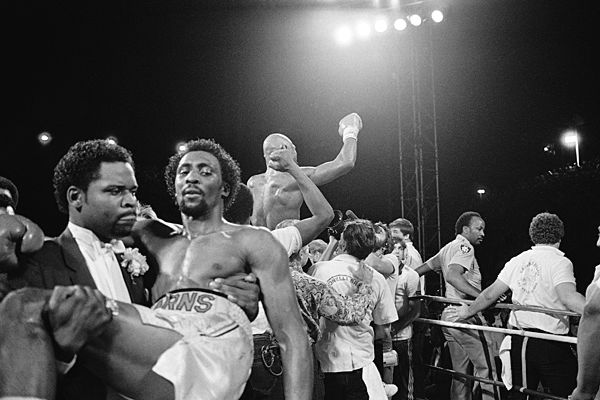 Hagler celebrated as Hearns was carried from the ring after "the greatest 3-round fight in history"
Caesars Palace, Las Vegas:
The venue that changed boxing
The pulse of the professional boxing world moved in the late 1970s from the place known as "The Mecca" of the sport -- New York's Madison Square Garden -- to sun-baked Las Vegas, where the outdoor arena at

Caesars Palace

emerged as the premier venue for world championship fights.
Caesars Las Vegas was the go-to place for many of the biggest fights of a generation, hosting legendary collisions featuring future Hall of Famers like Thomas Hearns (who fought there 11 times), Sugar Ray Leonard (nine times), Marvin Hagler (six times), Larry Holmes (14 times), Roberto Duran (nine times), Evander Holyfield (seven times), as well as Julio Cesar Chavez, Alexis Arguello and Oscar De La Hoya (four times each).
Muhammad Ali, "The Greatest," lost his final title bout to Holmes at Caesars Palace on October 2, 1980. Hagler and Hearns fought what is widely regarded as the most-spectacular three-round fight in boxing history (a TKO win for Hagler) in that ring on April 15, 1985, and both Hearns vs. Leonard battles were at The Palace in '84 and '89.
1993: Fan Man crashes the Holyfield-Bowe party
Duran stepped into Caesars' squared circle for his encounters with Esteban DeJesus, Wilfredo Benitez, Hagler and Hearns. Holyfield's sensational 1993 brawl with arch-rival Riddick Bowe was famously interrupted in the seventh round when a man flying a motorized kite -- "Fan Man" -- descended upon the arena and crashed into the ring ropes on national TV. Mike Tyson helped build his legend in the same ring in 1990 with a brutal first-round KO of Henry Tillman.
Alexis Arguello and Aaron Pryor, two all-time greats, collided for a classic there on Sept. 9, 1983. And, of course, Ray "Boom Boom" Mancini, one of the most-popular boxers of his era, achieved infamy at Caesars when his 14-round title defense against Korea's Duk Koo Kim -- one of the classic wars of that era -- ultimately resulted in the death of the challenger.
Caesars Palace established Las Vegas as the No. 1 place in the world for a world championship fight, and paved the way for competing casinos to leap aboard the bandwagon of "The Sweet Science." The most recent major fight at this legendary location was heavyweight legend Wladimir Klitschko's conquest of DaVarryl Williamson in October of 2004, the same night Jeff Lacy won the vacant IBF super middleweight crown by TKO over Syd Vanderpool.
Caesars Palace also became the home of what was then known as the World Wrestling Federation when, in 1993, WWF promoter Vince McMahon brought the biggest stars of that industry to Las Vegas for WrestleMania IX.