Riding the momentum of his stunning upset of Max Baer, world heavyweight champion James J. Braddock, dubbed "The Cinderella Man," signed to defend his crown against undefeated German Max Schmeling. But Braddock's manager, Joe Gould, broke the contract with Madison Square Garden, ostensibly because f opposition to Schmeling by the Non-Sectarian Anti-Nazi League.
More likely, Braddock bypassed the Schmeling fight because he received an amazing offer from promoter Mike Jacobs to fight Joe Louis. Jacobs offered Braddock $500,000, or half the gate and radio revenues (which ever was greater), plus 10 percent of Jacobs' profits from all his heavyweight title promotions for the next 10 years if Braddock lost to Louis.
They fought June 22, 1937 in front of a crowd of 45,000 at Chicago's Comiskey Park. After Braddock put "The Brown Bomber" on the canvas in the opening round, Louis asserted his dominance and KO'd the champ in the eighth.
---
A SHOCKING TURN OF EVENTS
A bout with scarlet fever as a toddler rendered Paul Berlenbach deaf and mute until age 15, when he accidentally touched a downed telephone wire and was electrocuted -- a trauma that inexplicably restored his hearing. He went on to become the only man ever to win both the AAU national wrestling championship and the heavyweight boxing title, which he held in 1925 and 1926.
---
THE UNSINKABLE LITTLE FISH
Hall of Famer Benny Bass, nicknamed "The Little Fish," was born in Kiev, Russia, coming to the U.S. coming to the U.S. in 1920 on a boat with his mother and four brothers -- a voyage on which they survived a shipwreck near Ireland.
Bass won the featherweight crown in 1927, but suffered a broken collarbone in his first defense. Braving the pain, he battled Hall of Famer Tony Canzoneri for the full 15 rounds, but lost his title. In 1929 he became a champ again, stepping up to junior lightweight to win that belt .
---
THE DEATH OF WALTER CROOT
Jimmy Barry, "The Little Tiger," was a flyweight title before the weight division existed, and is one of the few fighters to go into the Hall of Fame with an undefeated record: 59-0, with 9 draws.
On May 30, 1898, Barry KO'd Walter Croot with a left to the head, followed by a right to the jaw, in the 20th round of their fight at the National Sporting Club in London. Croot never regained consciousness and Barry was charged with manslaughter. He was exonerated when it was determined that Croot died of a skull fracture sustained when his head hit the unpadded wooden floor. Though cleared of any crime, Barry was deeply affected by Croot's death and retired. He returned to the sport a year later after moving to the United States and fought nine more times.
---
Max Baer
HOLLYWOOD'S HEAVYWEIGHT
In 1934 at Madison Square Garden, world heavyweight champion Max Baer scored 11 knockdowns in 11 rounds against Primo Carnero before the fight was stopped.
The victory launched Baer to fame and he was given a starring role in a Hollywood movie, "The Prizefighter and The Lady" (which was banned in Germany because Baer's grandfather was Jewish.) He was romantically linked to innumerable starlets, socialites, chorus girls and Broadway actresses before marrying in 1935.
Meanwhile, he frittered away his boxing career, training lightly before losing his title to James J. Braddock in his first defense. Three months later he got a chance to redeem himself, but was demolished in four rounds by Joe Louis.
He fought for another six years, then retired to act in movies and in a nightclub act (with Slapsie Maxie Rosenbloom, another ex-champ). He also refereed boxing and wrestling matches. His son, Max Baer Jr., played the dimwitted Jethro Bodine on the 1960s television series, "The Beverly Hillbillies."
---
DISHONEST ABE?
Johnny Kilbane earned the lasting enmity of arch-rival Abe Attell by claiming that Attell had coated his back with chloroform to win a 10-round decision in 1910 in Kansas City. Attell insisted the substance was cocoa butter.
He was linked to the dark side in retirement, too, when he was linked to the 1919 Black Sox Scandal, in which gamblers (including Attel) reputedly bribed eight members of the Chicago White Sox to throw the World Series. He was never convicted of any crime in connection with the scandal.
---
John L. Sullivan
THE ORIGINAL LEGEND: JOHN L. SULLIVAN
John L. Sullivan briefly attended Boston College in an effort to satisfy his mother's wish that he become a priest, but dropped out to work as a hod carrier (his father's profession), a tinsmith, and an assistant plumber -- a job he lost when he broke his employer's jaw in a dispute over which pipe to use on a job.
A versatile athlete, Sullivan turned down a contract to play big-league baseball for the Cincinnati Red Stockings and instead began fighting as a teenager, walking into Boston barrooms and declaring that he could "lick any man in the place." He also engaged in weightlifting exhibitions, hoisting and sometimes throwing kegs of beer.
As a boxer, he reigned as heavyweight champion from 1882-1892 before his indulgent lifestyle caught up with him during a 21-round title fight with James J. Corbett, which ended in a knockout loss.
A prodigious drinker in his boxing heyday, Sullivan swore off liquor in retirement and became a temperance lecturer.
---
A CLASSIC TRILOGY: ZALE vs. GRAZIANO
Upon his return from WWII, world middleweight champion Tony Zale engaged in a triology of career-defining battles against Hall of Famer Rocky Graziano, who was nine years younger.
The first, which took place in front of a crowd of almost 40,000 at Yankee Stadium in 1946, was one of the most brutal battles in boxing history. Zale, the betting underdog, dropped the young challenger in the first round, then went down himself in Round Two. Graziano then battered and bloodied Zale so severely that the champion stumbled to the wrong corner at the end of the fifth round, and fans were screaming at referee Ruby Goldberg to stop the fight. Astoundingly, Zale answered the bell in Round Six with renewed ferocity and KO'd Graziano within the first 2 minutes.
The rematch, in 1947, and the rubber match, in 1948, were equally memorable. Graziano, bleeding from mulitple cuts, took Zale's title with a barrage of punches in the sixth round of their second fight. Zale won their third bout, a fericious 3-rounder, by KO.
Three months later, Zale lost his middleweight crown to Marcel Cerdan, who knocked him out in Round 12, and he retired. He played himself in the movie version of Graziano's autobiography, Somebody Up There Likes Me, which starred Paul Newman.
---
THE CHAMP & THE MOBSTER
Isiah "Ike" Williams held the world lightweight title for more than six years, from 1945-1951, but his career got sidetracked after he became involved in a dispute with his powerful manager, Connie McCarthy. When Williams ended their relationship and decided to go it alone, McCarthy blackballed him so effectively that Williams couldn't get any fights.
He solved that problem by signing on with mobster Frank "Blinky" Palermo, who immediately got him a fight against Bob Montgomery, who held New York's version of the lightweight crown. Williams fought masterfully and KO'd Montgomery in the sixth round.
After losing his title to Jimmy Carter, Williams was called to testify in front of the Kefauver Committee during the Senate's investigation of organize crime's relationship with the sport of boxing. He admitted that Palermo often suggested that he throw fights, but claimed he had never taken a dive. He did confess that he had carried an opponent named Enrique Bolanos, and that he had put forth less than his best effort in other bouts. He also told the committee that he often saw nary a penny from his fight purses during his relationship with the dangerous and intimidating Palermo.
---
JERSEY JOE'S LONG CLIMB TO THE MOUNTAINTOP
Hall of Famer Jersey Joe Walcott was 33 years old before he got a shot at the world heavyweight championship, and it took him four more years to win the title. He literally outlived boxing's color barriers of the 1930s and 1940s by never ducking an opponent.
His real name was Arnold Cream, but he took his ring name in honor of his idol, Barbados Joe Walcott, a Hall of Famer from his childhood.
Walcott fought as a second-tier attraction for most of his career, taking any fight he could find to support his mother and siblings. At times he simply couldn't afford to box, working a variety of jobs or subsisting on welfare. He got married, fathered six children, and by 1941 was fighting only once or twice a year in a career that seemed to be winding down.
Then, in 1945, perhaps because so many fighters had gone to fight in World War II, doors began to open. He got offers to fight tougher opponents, won some key bouts, and suddenly showed up in The Ring Magazine's ratings of the top 10 heavyweights in the world.
In 1947 he was put up against Joe Louis for the heavyweight championship at Madison Square Garden. Walcott knocked Louis down twice and nearly closed the champ's left eye. At the end of the 15th round, referee Ruby Goldstein indicated Walcott had won, but two judges scored the fight for Louis.
He got another chance a year later, but Louis was better prepared and knocked him out in Round 22.
Walcott's first two tries to take the title from Ezzard Charles also failed, but in 1951, at Pittsburgh's Forbes Field, he KO'd Charles with a thunderous left hook and became the heavyweight king at age 37. He also won a rematch, but lost his crown in September of 1952 to Rocky Marciano, who recovered from a first-round knockdown to score a KO in round 13. They fought again in 1953, a fight that resulted in a first-round KO for Marciano and sent Walcott into retirement.
Esteemed trainer Eddie Futch called Walcott "one of the finest technicians in heavyweight boxing history."
---
THE ALL-TIME K.O. KING
The great Archie Moore knocked out more opponents in major competitions than any other boxer who ever lived. "The Old Mongoose" turned out the lights on 145 foes during his amazing career.
---
THE LONG AND SHORT OF IT
Sandy Saddler, one of the greatest featherweights of all time, had a reach of 70 inches -- two inches longer than the only world heavyweight champion who ever retired undefeated, Rocky Marciano. Marciano's 68-inch reach was the shortest of any heavyweight in history.
---
GETTING
GETTING UP FOR THE CHALLENGE
Hall of Famer Floyd Patterson was knocked down more often than any other modern heavyweight champion -- 20 times.
---
Joe Louis, "The Brown Bomber"
LONG MAY HE REIGN
Why is Joe Louis revered by so many as the greatest heavyweight champion who ever lived? One reason might be the fact that he successfully defended his world title 25 consecutive times between 1937 and 1949, the longest streak in the history of the sport. Second on the list is Ricardo Lopez, who held the WBC's version of the world strawweight crown from 1990-99 with 21 straight title defenses. Tied for third, each with 19 successful defenses in a row, are welterweight Henry Armstrong (undisputed world champ from 1938-40), featherweight Eusebio Pedroza (WBA featherweight belt-holder from 1978-85) and Khaosai Galaxy (WBA junior bantamweight king form 1984-91).
Louis held the heavyweight belt for 11 years and 7 months, the longest reign of all time, just ahead of former featherweight champion Johnny Kilbane, who was king of that division for 11 years, 4 months.
---
GET
GROWTH SPURT
The great French boxer Georges Carpentier started his career as a flyweight (105 pounds) and ended up as a heavyweight. He fought at least once in every weight division boxing had to offer.
---
GETTING
THE SHORT SHIFT
Most first-round knockouts in a career? Young Otto registered 41, Tiger Jack Fox scored 30, Jack Dempsey had 26, Sean O'Grady logged 24, and Buddy Baer got 23.
---
GETTING\
Alberto "Baby" Arizmendi
KIDDIE CORPS
Youngest professional debut by a boxer? Believe it or not, Hall of Famer Alberto "Baby" Arizmendi fought for money for the first time at age 10 or 13, depending on which legend you believe. Teenage pros included Teddy Baldock, Al McCoy, Battling Nelson and Georges Carpentier, all of whom debut at age 14.
---
GETT
THE PEACH-FUZZ CHAMP
The youngest man ever to win a world title was Wilfredo Benitez, who was 17 years, 3 months old when he captured the junior welterweight crown.
---
QUICK STARTERS
Pete Rademacher (1957), Jack Skelly (1892) and Rafael Lovera (1975) all made their professional debuts in world title bouts.
---
THRILLING YES ... BUT WAS IT CLOSE?
l "The Thrilla in Manila" is widely regarded as one of the greatest heavyweight championship fights of all time. Surprisingly, when Joe Frazier failed to answer the bell for the 15th round in that classic war against Muhammad Al, the judges cards favored Ali by scores of 166-160, 166-162 and 167-162. Smokin' Joe needed a knockout to win the fight.
---
Albert "Chalky" Wright
AN UNUSUAL DEMISE
Hall of Famer Albert "Chalky" Wright drowned in a bathtub.
---
GETTI
BABY FAT
Heavyweight champion Primo Carnera, known as "The Ambling Alp," weighed 22 pounds at birth.
---
MAKING IT COUNT
Emile Griffith fought 339 rounds in title bouts alone, the most ever, ahead of Abe Attel (337), Hilario Zapata (303), Julio Cesar Chavez (301) and Sugar Ray Robinson (288).
---
MARATHON MEN
The last world title fight that was scheduled for more than 15 rounds was a 20-rounder between Joe Louis and Bob Pastor for the heavyweight belt in 1939. Louis made a shorter night of it with an 11th-round KO.
---
FOREVER YOUNG
The oldest fighter to compete for a world title was Roberto Duran, who was 47 years, 2 months, and 12 days old when he lost to defending champ William Joppy for the middleweight title in 1998. (Ten years earlier, Duran became the oldest man ever to win the middleweight title). Archie Moore also was 47 when he defended his light heavyweight crown against Giulio Rinaldi (and won) in 1961.
---
GETTING
"Jersey" Joe Walcott
TRY, TRY, TRY, TRY, TRY AGAIN
It took Jersey Joe Walcott five tries to finally win the heavyweight championship, which he accomplished by knockout out Ezzard Charles in 1951.
---
A BORN WINNER
Willie Pep posted the most official wins in boxing history with 229.
---
RED ALERT
The first world title fight ever contested in a communist country was between Italian champ Nino Benvenuti and New Yorker Tom "The Bomb" Bethea, who met for Benvenuti's middleweight belt in 1970 in Umag, Yugoslavia.
---
Sam Langford
THE END GAME
The last two boxers to participate in a fight to the finish were Sam Langford and Kid Savage, who battled in 1923 at the Plaza de Toros in Mexico City. Langford finished the fight with a first-round knockout.
---
JUMBO COLLISION
The greatest combined weight of two boxers was 700 pounds, when Jimmy Black showed up at 360 pounds to fight 340-pound Claude McBride in 1971.
---
NICE RECOVERY
The great Hall of Famer Alexis Arguello lost his pro debut by a first-round knockout.
---
Fritzie Zivic
A STRANGE SUCCESS STORY
Hall of Famer Fritzie Zivic holds the all-time record for most career losses by a world champion with 65.
---
THE FIRST VENUE
The first stadium ever built for boxing was Figgs Amphitheatre, which was constructed on Oxford Road in London in 1719.
---
BIRTH OF THE ELECTRONIC MEDIA
The heavyweight title clash betwen Jack Dempsey and Jess Willard was the first fight ever broadcast on radio in the year 1919. The first televised bout was a 1931 battle between Benny Leonard and Mickey Walker
---
WHAT'S IN A NAME?
Henry Armstrong first appeared in a professional boxing match under the name Melody Jackson.
---
BIRTH OF THE ELECTRONIC MEDIA
The heavyweight title clash between Jack Dempsey and Jess Willard was the first fight ever broadcast on radio in the year 1919. The first televised bout was a 1931 battle between Benny Leonard and Mickey Walker.
---
THE FIRST MILLION-DOLLAR BABY
The first boxer who ever fought for a million-dollar purse was Sonny Liston, when he defeated Floyd Patterson to retain his heavyweight title in 1963. The bout lasted 129 seconds.
---
UNORTHODOXED CHAMP
The first lefty every to win the heavyweight crown was Michael Moorer.
---
THE MISMANAGER
Freddie Welsh lost his world middleweight crown in a 1917 fight against Benny Leonard. To add insult to injury, Welsh's manager bet his entire purse on Welsh to win, so they went home penniless.
---
Jimmy Carruthers
THE BAREFOOT BOUT
A 1954 championship fight between Jimmy Carruthers and Chamrern Songkitrat was held outdoors in a tropical rainstorm. Instead of cancelling the fight, both fighters removed their shoe and fought barefoot to avoid slipping on the wet canvas.
---
THE MISMANAGER
Freddie Welsh lost his world middleweight crown in a 1917 fight against Benny Leonard. To add insult to injury, Welsh's manager bet his entire purse on Welsh to win, so they went home penniless.
---
SEE YA LATER
A 1923 bout in Havana between heavyweight champion Jack Johnson and challenger Jack Thompson was so action-free that the referee left the ring in disgust. The fight was refereed for the last couple of rounds by the promoter, and both fighters were fined $500 for "stalling."
---
THE LIP IS SILENCED
When Muhammad Ali was asked by a stewardess to fasten his seat belt, he told her "Superman don't need no seatbelt." When she responded, "Superman don't need no plane," Ali relented and fastened his belt.
---
ONE GIANT LEAP FOR DENTISTRY
Ted "Kid" Lewis was the first man ever to use a mouthpiece in the ring when he fought Jack Britton in 1915.
---
THE LONGEVITY FACTOR
Roberto Duran and Jamie "Kid Azteca" Garza fought professionally in five different decades. Kid Azteca's career spanned from 1929 to 1961. Duran fought from 1968 to 2001.
---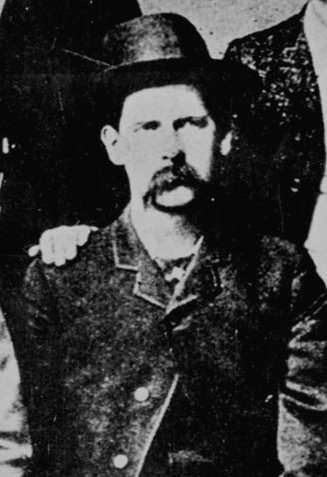 Wyatt Earp
THE MOST-DANGEROUS MAN IN THE RING
When Tom Sharkey fought Bob Fitzsimmons for the world heavyweight crown on Dec. 2, 1896 in San Francisco, the referee was the infamous sheriff and gunfighter, Wyatt Earp, and the fight was delayed for a couple of extra minutes after Earp was asked to remove his gunbelt in the ring. Earp DQ'd Sharkey in the eighth round, nearly causing a riot.
---
BREATHLESS ACCOMPLISHMENT
British fighter Nel Tarlton went the full distance in 12 title fights even though he had just one lung.
---
MAN WITH A GREAT CHIN
Europeon featherweight champ Eugene Criqui was shot in the face during World War I, a wound that required his jaw to be replaced by a silver plate, held together by wire. After the war he went 99-17, with 53 knockouts, and was KO'd just five times in a 15-year career.
---
CALVIN WHO?
Argentina's Luis Firpo, known as "The Wild Bull of the Pampas," had a chance meeting with a man who was thrilled to be in his presence and shook his hand vigorously as he gushed over the No. 1 contender for the world heavyweight championship. When the fawning was over, Firpo turned to a companion and said, "Who was that man?" The man, he was informed, was Calvin Coolidge, the president of the United States.
---
A GIANT OF HIS TIME
Italian giant Primo Carnera was easily the largest heavyweight champion of his time, standing 6-foot-7 and weiging 270 pounds. His breakfast, according to his PR man, included a quart of orange juice, two quarts of milk, nineteen pieces of toast, fourteen eggs, a loaf of bread and a half-pound of Virginia ham. Legendary boxing writer Paul Galico described Carnera as "the only giant I have ever seen who was well proportioned throughout his body for his height. His legs were massive and he was truly thewed like an oak. HIs waist as comparatively small and clean, but it rose from a torso like a Spanish hogshead from which sprouted two tremendous arms, the biceps of which stood out like grapefruit. His hands were like Virginia hams, and his fingers were 10 red sausages. His head was large, and he had a good nose and fine, kind eyes. His skin was brown and glistening and he invariably smelled of garlic."
---
THE BUTLER DID IT
The first documented boxing match took place in 1681 in Britain when the Duke of Albemarle engineered a bout between his butler and his butcher. In the coming years, bare-knuckle boxing contests would be held in amphitheatres all over England. Jack Boughton, known as "The Father of Boxing," developed the first set of rules for the sport and published them in 1743, two years after a bout in which he killed his opponent. The most revolutionary change came in 1865 when John Sholto Douglass, the Eighth Marquess of Queensbury, drew up new rule which basically transformed the sport into what it is today. CLICK HERE to read the whole set of 12 Marquess of Queensbury rules.
---