Roy Jones Jr. (26-0, 23 KOs)
vs. James Toney (44-0-2, 30 KOs)
Nov. 18, 1994, MGM Grand, Las Vegas, Nev.
The unbeaten, 26-year-old James "Lights Out" Toney had become a transcendental figure in the middleweight and super middleweight divisions, having already beaten Mike McCallum, Michael Nunn, Reggie Johnson, Merqui Sosa and Iran Barkley. Jones, just 25, was fresh off a second-round TKO of Thomas Tate and saw this as his coming-out party. This classic showdown between two great, undefeated fighters was for Toney's IBF crown. Neither fighter believed he could lose. One of them was wrong.
CLICK HERE to see these two iconic future Hall of Famers at the peak of their conditioning, skills and physical prowess.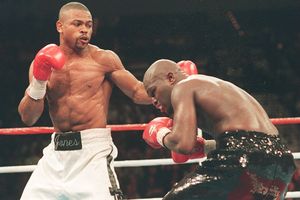 Roy Jones Jr. & James Toney