www.ringsideboxingshow.com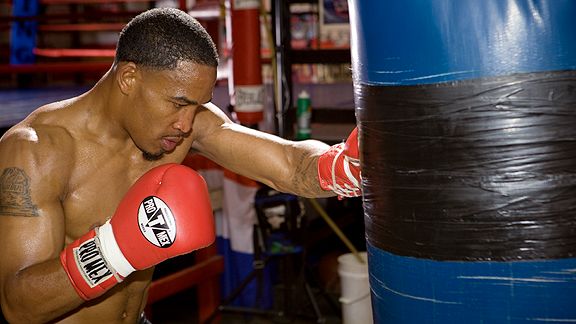 James Kirkland (above) figures to be tested by Carlos Molina
COLLISION
OF THE COMEBACKS:
Kirkland & Molina
By ANDERS SANDBERG
Vince Lombardi famously said "It's not whether you get knocked down, it's whether you get up." Two fighters who have gotten up, James Kirklad and Carlos Molina, will meet March 24 in the 154-pound co-feature of an HBO-televised event in Houston .
Kirkland, the "Mandingo Warrior," has been a mercurial character in boxing for the last decade. Debuting as a professional in 2001, the Texas native started quickly by winning his first 11 fights, including nine stoppages. In 2003, his promising career was derailed by a felony robbery conviction, which kept him out of boxing for over two years.
When he was able to resume his career, he ran up his record to 25-0 (22 KOs) and also stepped up his level of competition, blowing out fighters like Brian Vera and Joel Julio. Kirkland was on the cusp of stardom inside the ring, but it turned out that he wasn't ready for the money and spotlight outside the squared circle. He violated his parole and went back to prison.
But this time, after his freedom, he set off on the comeback trail with a new trainer, veteran Kenny Adams. Starting with softer opponents to shake off the rust, in his third fight back he ran into problems. On April 9th 2011, Kirkland faced unheralded Nobuhiro Ishida, and the punishing knockout artist was stopped in his tracks in the opening frame. Perhaps most alarming was that he was sent to the canvas three times by a fighter that was not believed to be a significant puncher. After the first loss of his career, Kirkland decided to regroup by going back to the woman who had brought him so close to the top, Ann Wolfe.
Kirkland got right back on the horse, and won two fights within a month. Back to explosive wins, he received the most significant opportunity of his still young career against Mexican Alfredo "El Perro" Angulo (29). Like Kirkland, Angulo was a knockout force, also with only a single blemish on his record. Fireworks were expected, and fireworks we got. Kirkland was able to show that he was still punching with bad intentions, and also shook the Ishida demons when he got up in the first round and kept firing until he stopped Angulo in the 6th.
In an interview in December, Kirkland sounded as though he won't be leaving Wolfe again:
"Never, we got a team and I stick with my team. If you've got a team and it's your home base and you feel comfortable with your team and you feel comfortable with who is surrounding you, why leave?"
Without the legal issues that have haunted Kirkland, Carlos "King" Molina's ups and downs have come in the ring. He began his professional career in 2003, winning 8 of his first 9 fights. For his 10th fight, he got his first major opportunity against a young and undefeated Julio Cesar Chavez Jr. To the surprise of many, Molina fought the young star to a draw.
Molina is 11-0-1 in recent fights, including a beatdown of Cintron
In a rematch, Molina lost a controversial majority decision and then his next two bouts as well. He was 24 years old and tired of losing. He reportedly considered hanging up the gloves at that point, but a year later he was back in the ring. Since then, he has rebounded to the tune of 11-0-1. He has also stepped up his level of competition, beating long-time contender Kermit Cintron, and drawing with the talented Erislandy Lara. Still, title shots or major paydays have evaded him.
Molina's promoter Leon Margules, of Seminole Warriors Boxing, recently told me:
"Molina may be the most underrated fighter in the business, and one of the most talented guys still learning his trade. He's 29, he had zero amateur background, and is still coming up. People overlooked him because his record was 8-4-1, but it was a controversial 8-4-1, including the two fights with Chavez. But this is his 4th fight with us, and he has gotten better with each one."
They say that styles make fights, and two different styles will be on display in this bout. Kirkland is a ferocious southpaw, generally willing to take in order to give. He stalks opponents, applying tons of pressure. With an 87% knockout rate, Molina will be wise to respect his power. Kirkland of course has weaknesses as well.
While coming forward, he tends to throw wide, and leaves himself vulnerable. While he has historically walked through what comes back at him, he was exposed against Ishida. It is important to note that the knockdowns from Ishida were the result of combination punching, not single power shots. Until we see otherwise, we can all expect Kirkland to do what he always does. He will come right at Molina, and if he wins it is likely to be a stoppage in the first half of the scheduled 12.
Molina is more Ishida than Angulo. He comes forward, but is more of a volume puncher, smothering opponents. He is comfortable working inside both offensively, and defensively. That is where he will need to be if he is going to be successful. He can throw lead rights and follow them in, or he can wait for Kirkland's pressure and try to counterpunch to get inside.
Either way, he will want to avoid standing at range where Kirkland can swing those heavy hands freely. If he is able to work inside consistently, Molina will also benefit from working the body. He is a gym-rat who has fought more rounds than Kirkland (171-94), and has spent more time in the later rounds as well. Molina has completed 10 or more rounds 7 times, as opposed to just once for Kirkland. Staying inside, working the body, and extending the fight to the championship rounds should benefit Molina. If he is going to win, it would likely be by decision.
On March 24th Molina will walk in at 19-4-1, looking to get into the conversation of the top 154 pound challengers. Kirkland will bring his 30-1 mark, and try to stay there. The victor will have big opportunities ahead, and both sides know what is at stake. Margules had this to say:
"There is nobody we wouldn't fight. This is a WBC eliminator, so it potentially could mean (Saul 'Canelo') Alvarez." When asked if they would go to Mexico for the shot at Alvarez "It depends on the money. Molina is a father, and he just wants to provide for his family. There's nobody we wouldn't fight. For the right fight, he could even go to 147, or a catch-weight. He is a little bit of a 'tweener', so he would just need a few extra weeks' notice. There are a lot of great fights around".
Whoever wins, let's all hope this fight delivers the action we are expecting with this much on the line.
Also by Anders Sandberg:
At Berto-Ortiz showcase, Ronald Hearns has most to lose